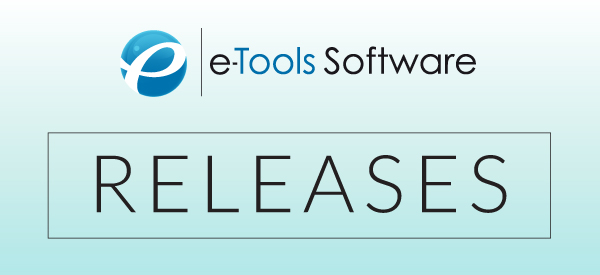 e-Tools Software Release Summary | 24 November 2021
We start a Release Summary this month, aimed at helping you to stay on top of releases, especially if you have multiple software applications. We will provide a snapshot of releases and version numbers plus release notes in case you missed any previous email notifications.
Please check the current version number on your software against that shown in the release. If they are different, you haven't downloaded the updated release and will need to do so.

If you are interested in a free no-obligation demo on any e-Tools software applications, please do not hesitate to contact us.
Release Date | Release Notes
e-Tools Home Support Programme
[eHSP] v5.5.3.0
e-Tools Home Care Package
[eHCP] Web v5.0.6.0
e-Tools Reconciliation
[eREC] v1.7.2.0

e-Tools Staff Records Management
[eSRM] v1.2.17.0

eWorkforce Mobile App v1.12.11
eConsumer Mobile App v1.3
e-Tools Visitor Management
[eVM] Web v1.0.4.0
National e-Tools Resident Agreement [NeRA] v3.10.13.0
Please do not hesitate to contact us if you have any enquiries on support@e-tools.com.au
The e-Tools Software Team

Please do not reply to this email address, as it is not monitored. We welcome any enquiries or change of details as always - kindly contact our Support Team via support@e-tools.com.au instead.